QRPTTF at Profile Falls
April 2013

This afternoon Dick N1LT and I headed to Profile Falls in Bristol for the annual QRP to the Field
event. What a perfect day we had... lots of contacts... dazzling scenery, even a little break for tea
and cake!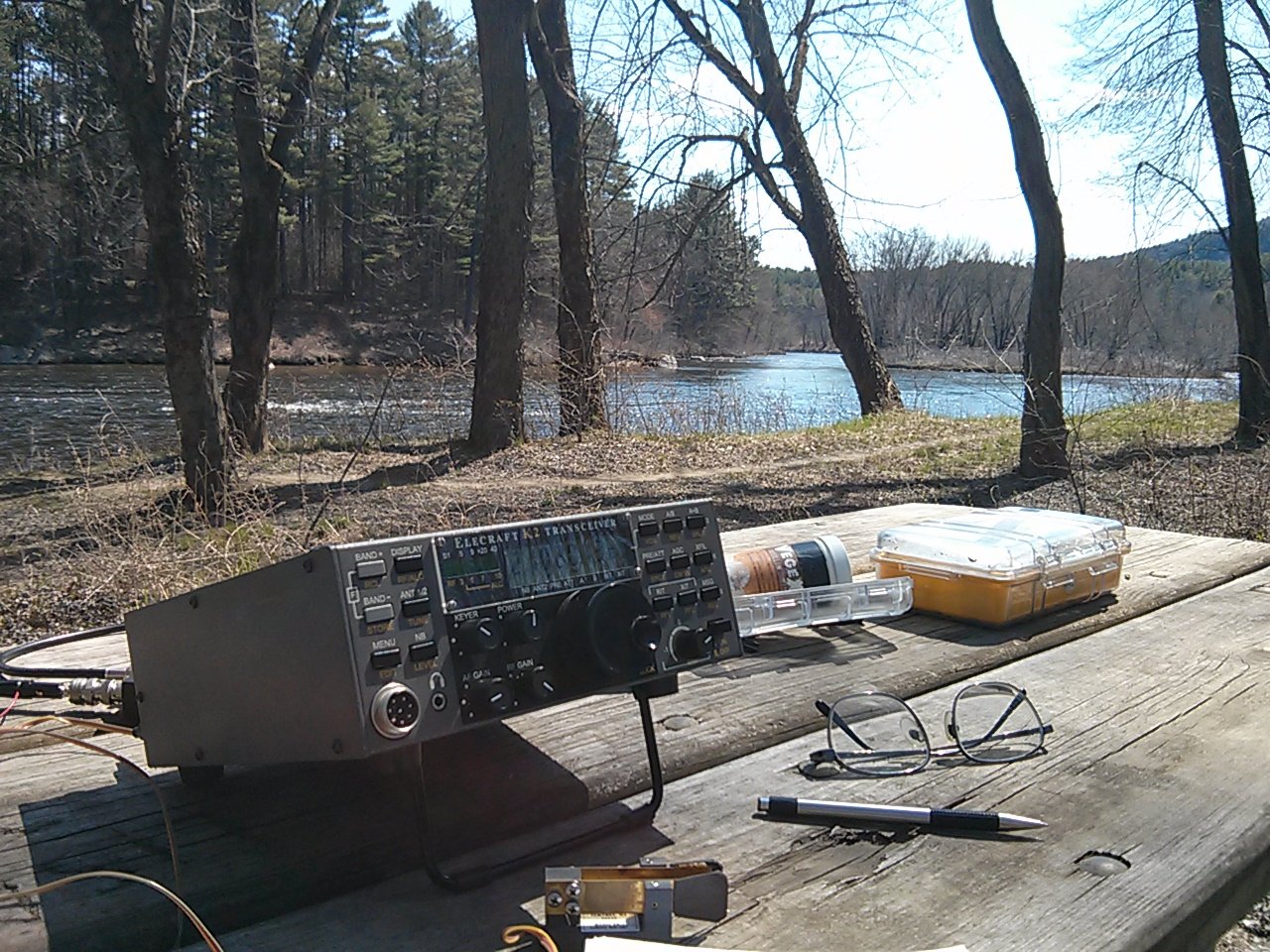 We set up right at the edge of the Pemigewasset River not far from where the Smith River enters
the Pemi from Profile Falls. This year's theme for the QRP to the Field event is historic trails. This
spot fit in perfectly. There are TWO historic trails here. We were only several hundred yards from
the old Northern Railroad route between Franklin and Bristol and just a little farther from the old road
that ran between the two New Hampshire towns. Both have been out of service since the 1940's when
the Corps of Engineers took over the area for flood control.

We ran two separate stations. Dick set up about 70 feet from me. He operated in my VW camper with
an FT-817 and a Par End Fed 40, 20, 10. I don't have his log, but he worked a dozen or so stations on
20 meters in about an hour and a half of operating.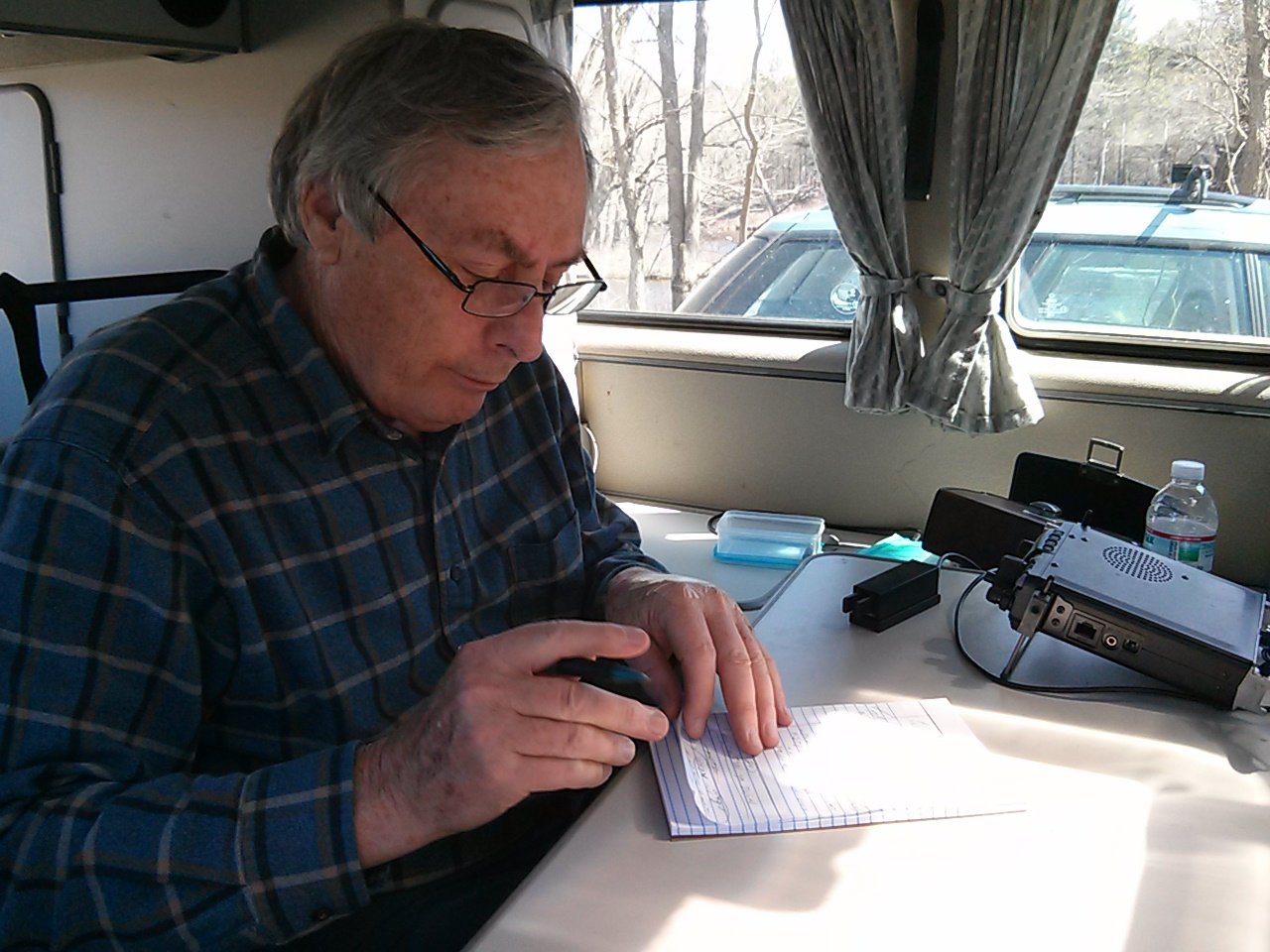 As shown in the first picture, I set up on a picnic table in front of the river. I ran a K2 to a 21 foot
piece of wire (half wave on 15M) tuned with an Elecraft T-1 tuner. I operated almost exclusively on
15 meters. The band was sparse, but now and then a strong station appeared and I was able to work him.
Here's my log for the event.

Date      UTC   Freq   Call   Mode  MY  His QTH         Name
-------------------------------------------------------------
27 Apr-13 1753  21.023 RA2FF   CW   599 599 Russia   
27 Apr-13 1758  21.061 AA5CK   CW   559 599 OK           Ted  
27 Apr-13 1802  21.062 N7KE(?) CW   439 559 WA             
27 Apr-13 1808  7.034  W2M     CW   599 599 NY           Morse event   
27 Apr-13 1820  21.037 AA4PP   CW   599 599 FL   
27 Apr-13 1825  21.060 WT5RZ   CW   229 559 NM           Ron  
27 Apr-13 1828  21.009 HB9BMY  CW   599 599 SOTA    
27 Apr-13 1830  21.029 WD4AHZ  CW   599 599 FL   
27 Apr-13 1833  21.033 F6FEA   CW   569 599 France       Didier  
27 Apr-13 1920  21.034 K4LQ    CW   599 599 FL   
27 Apr-13 1925  21.017 I2TAO   CW   559 599 Italy   
27 Apr-13 1930  21.057 DF2GN/P CW   559 559 SOTA Germany Klaus  
27 Apr-13 1937  18.073 WT0S    CW   579 599 ND           Don  
27 Apr-13 1944  18.077 TM0SI   CW   599 599 Sein Isl  
It's a mix of DX, SOTA, FL QSO Party and a couple of QRPTTFers. My QSO with
Didier F6FEA in France lasted more than 20 minutes and I received a very cordial
email from Didier. He was most patient with my weak signal!

About three quarters of the way through the afternoon we stopped for a quick cup of tea
and some lovely orange cake that my wife sent along with us. I had brought along a gas
stove, a pot, and some cups and plates. What a wonderful treat.

Before packing up, we went across the road to Profile Falls. It's a popular swimming hole
in the summer. A bit cold right now!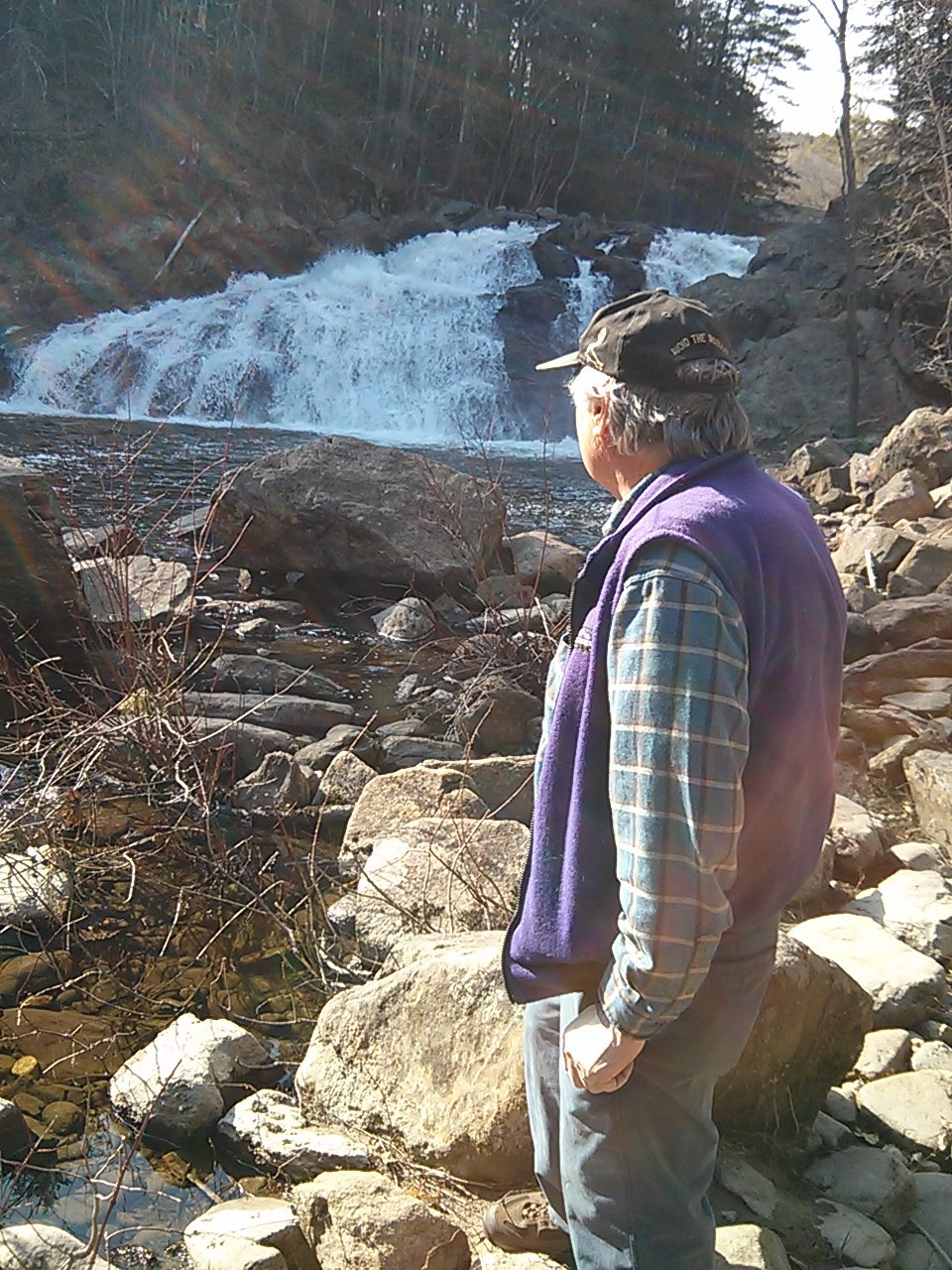 Dick and I have operated this event together at least 4 years out of the last five. It's something
we look forward to each year with good reason. Thanks to Paul NA5N for putting the event
together.