CWT on Kezar Lake
March 2017

Dave K1SWL and I operated the CWT sprint on Kezar Lake at Wadleigh State
Park in Sutton, New Hampshire this afternoon. We made more than 20 QSOs
in a half hour.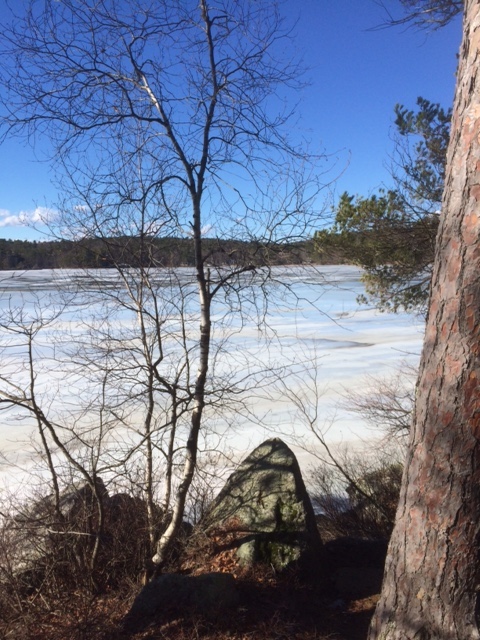 It was a nice afternoon for early March... in the mid 40s with a pretty
stiff breeze off the lake. We heaved a 33 foot wire into a red pine and
set up a KX3. We kept our backs to the wind coming off the lake and
passed the key back and forth.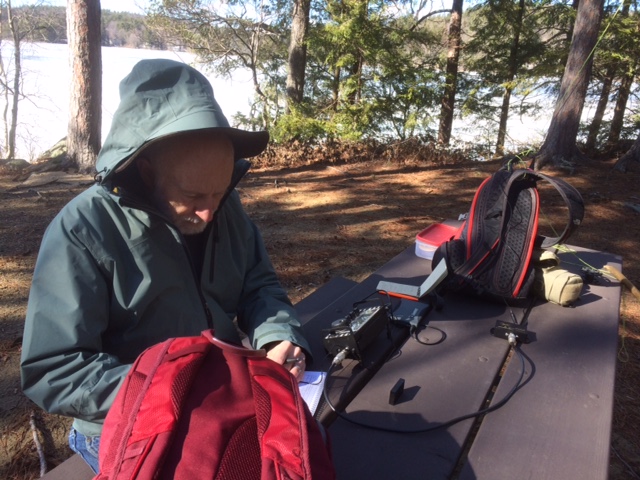 Dave would make a QSO and then hand me the paddles. I'd duplicate his contact and hand the paddles
back to him. Here's my log:

8 Mar-17 1905 14.034 K9CT CW 599 599 ILL Craig
8 Mar-17 1909 14.033 N5RP CW 599 599 ILL Bob
8 Mar-17 1913 14.029 K4RO CW 599 599 TN Kirk
8 Mar-17 1915 14.033 WC7Q CW 599 599 WA Sam
8 Mar-17 1925 14.038 N5PHT CW 599 599 TX Gary
8 Mar-17 1928 14.040 KA7T CW 599 599 ID Don
8 Mar-17 1928 14.042 C6APY CW 599 599 Bahamas
8 Mar-17 1932 14.038 W7OM CW 599 599 WA Rod
8 Mar-17 1933 14.041 K3SEN CW 599 599 FL Dale

Dave kept going a bit longer than I did (I had my hands in my pocket to keep warm), and he made a
few more contacts.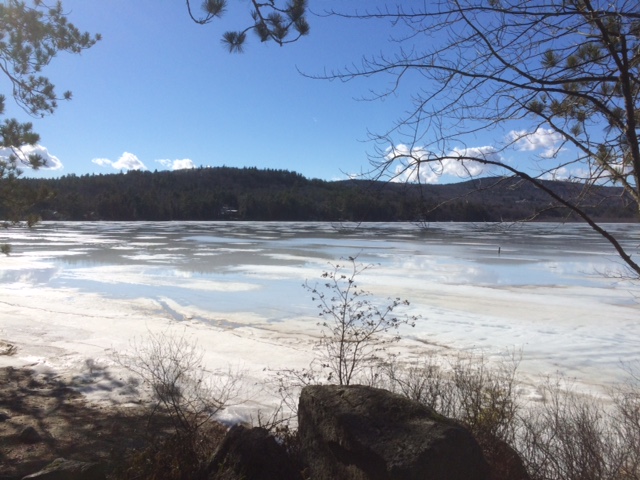 We were glad to take advantage of a sunny afternoon, and during coffee afterwards, we started
making plans for warmer days to come.

Part 2
April 11, 2017

Dave and I made a return trip to Kezar Lake in April. It is much warmer, nearly 70, with
only a slight breeze. There is still ice on the lake but most of the snow on the ground
has melted. We set up in the same place and made a few contacts in spite of poor propagation.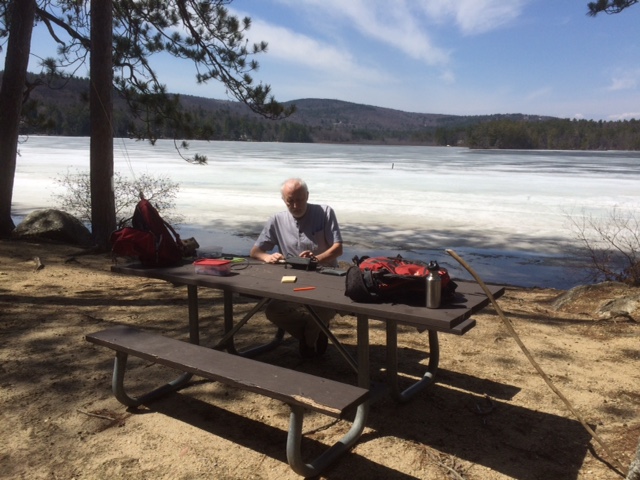 Dave worked two DX stations on 20 meters: IP0TRC and G4WQI. I worked Mike AA9AA in
Wisconsin.