Early Spring in Hill Village
May 2019

Judy and I rode our bikes in Old Hill Village today. It was glorious. Apple
trees in bloom, the fields turning green, and the smell of spring in the air.
We stopped by the river and I worked Bulgaria, Minnesota and Tennessee.




We started out at Needle Shop Brook. From there we rode north toward
Bristol. The place is perfect... it's an old dirt rode that runs through upland
fields and woods alongside the Pemigewasset River. As we rode along, a
Baltimore Oriole serenaded us from a tree top. We stopped to admire the
bird.

We came to a low damp place in the road. The river had recently receded
after spring flooding. I followed a fairly deep rut in the road... but I misjudged
my ability to stay on track. In an instant I was on the ground. Just a little
scrape and we were off again.

We stopped at the Eddy. It's a large flat ledge that juts out from the shore.
It was covered with flood debris, but still beautiful. I tossed a wire into
a nearby tree and sat down on a huge tree trunk that had washed ashore.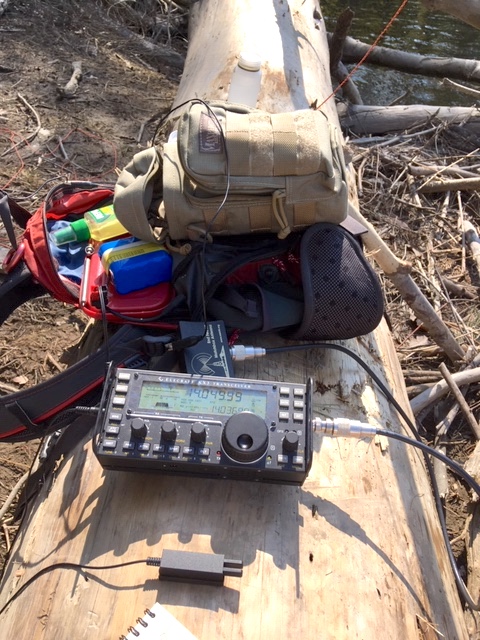 The band was nothing to write about, but I managed to work three stations
on 20 meters with the KX3. First was LZ497OM. We exchanged quick 599s.
Next was W4SIG/M on the county hunters frequency. His home QTH is
Tennessee, but he might have been somewhere else. Then I called Fritz
W0KO in Minnesota. He was finishing up a QSO and was kind enough to
respond to my weak signal. He was a strong 599 and gave me a 559 once he
had the beam pointed at me. When I told him I was on a bike ride... he wanted
to know if I was mobile! Nope... sitting on a log at the edge of the river.

Now it was getting late in the afternoon (buggy too) and Judy wanted to work
in the garden. We headed home. I sure hope the bands improve during the summer.
I want to get out as often as I can.