Hermit Lake in January
Jim W1PID

For the last two days I've gone out onto
Hermit Lake in Sanbornton to try some
winter operating. There's been a bit of
a warm spell... it's been in the mid 30s,
with some sunshine to keep the fingers
warm. On Monday I worked Germany,
Spain and California. On Tuesday I worked
Seattle and Madeira Islands.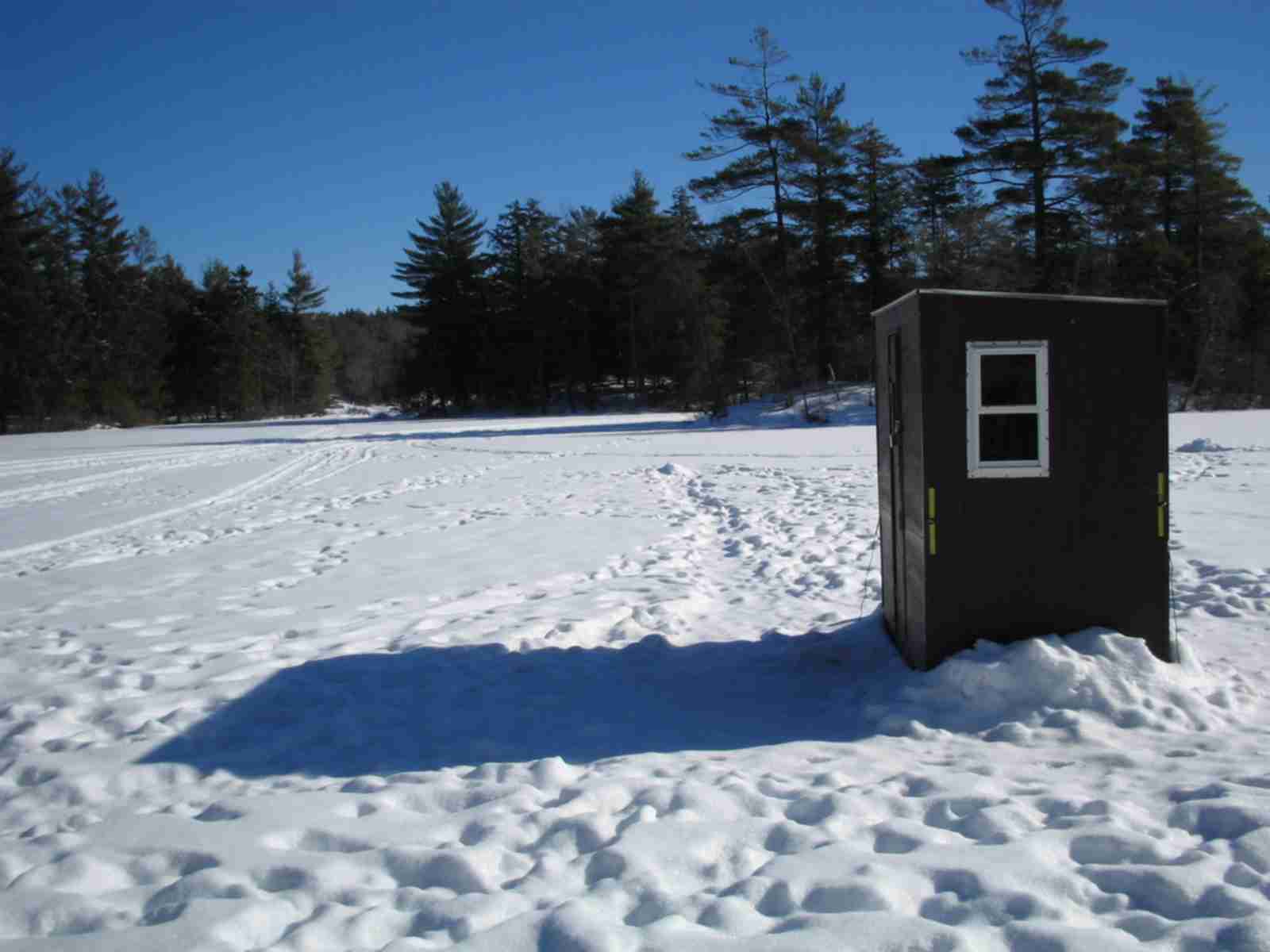 Bob houses and snowmobile trails cross the lake

Hermit Lake is dotted with islands, and in the winter,
a few bob houses for ice fishing. Snowmobilers
maintain several thoroughfares which traverse
the lake. But it's not a busy place. On the two
days I went out, I didn't see anyone. I often
cross-country ski here, but for my radio adventure
I decided to walk out.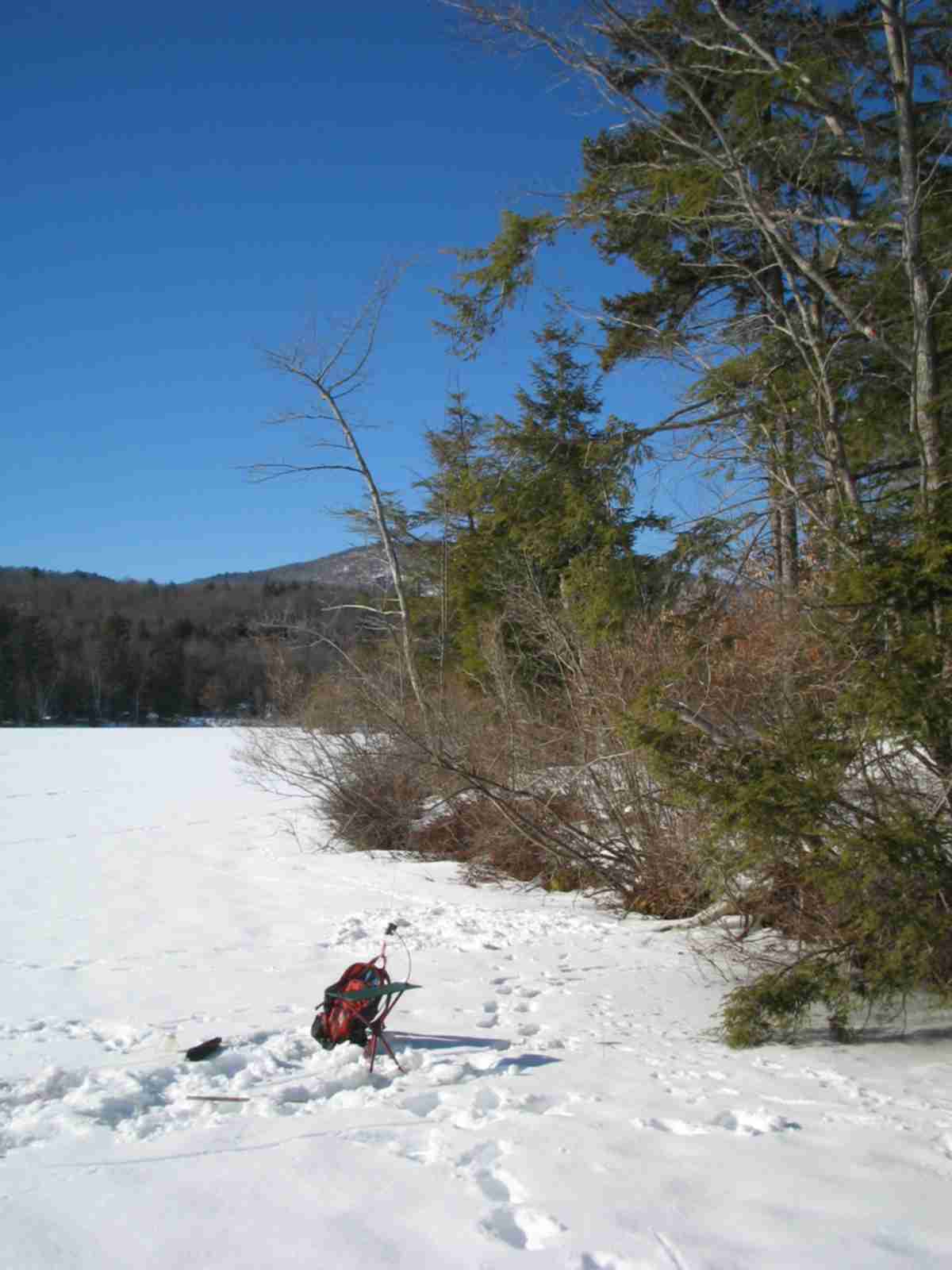 I set up near a small island

I set up on the south side of a small island. It
offers a bit of a wind break and of course some
necessary trees for an antenna. I bring a lightweight
stool to keep my butt off the snow. In the winter
my pack consists of an FT-817 with everything
pre-connected. Taking things out of the pack
and connecting gear just means cold hands.
So batteries, key, and antenna are all ready.
And... the FT-817 has a speaker so I don't
need earphones. All I have to do is throw up a
wire, setup the stool, and I'm ready to go. I
usually use a T-1 tuner and a half wave wire. But
I just got a Par Electronics end-fed that has a little
matchbox. It's incredibly small, light. I have a 33
foot wire on it and the SWR meter shows a perfect match.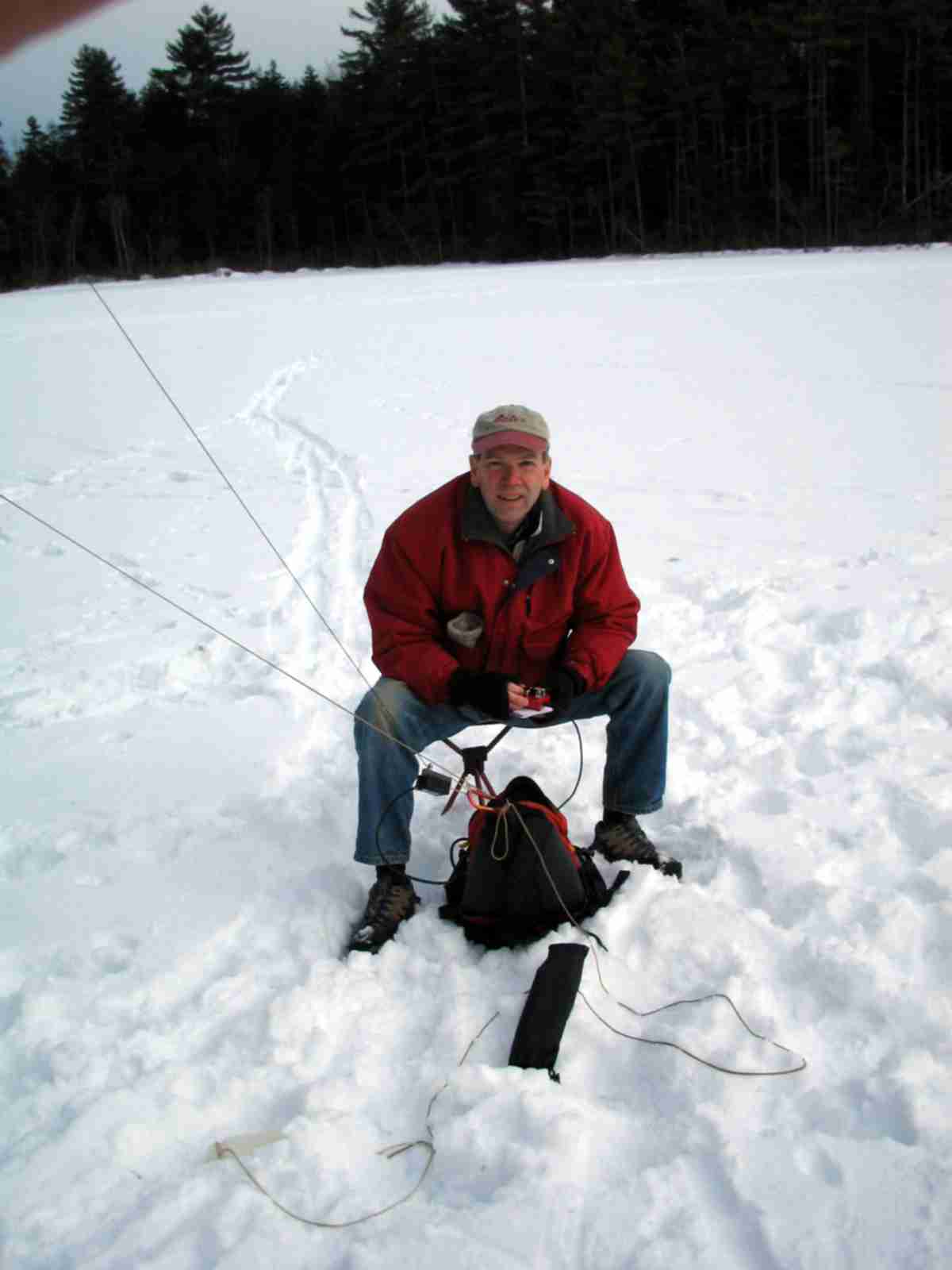 Staying warm with 5 watts and some fingerless gloves

On Monday I operated for 15 minutes. 20 meters
sounded good. Right away I worked a German
station. DN6SA, Arno gave me a 449. It was a
quick exchange. Then I worked Vic in Spain,
EA5KV. He gave me a 529. Before quitting I worked
K6TLL in California. Jim gave me a 559, but I don't
think he really copied me that well, because he
asked for some repeats.

I went back to the same spot the following day.
There weren't as many signals on the band, but
the ones that were there were stronger. I worked
Steve W7QC near Seattle. Steve wasn't all that strong
at first, only 559 and I was a little surprised he came
back to me. He gave me a 449, but I know he copied
me better than that because we chatted for 10 minutes.
And he was getting it all and asked if I were going to
do any ice fishing. Steve was running a K3 and a 3
element beam, and he wanted all the details of my setup.

Then I worked CT3FT on Madeira Islands off the coast
of North Africa. Cedric was a strong 599 and he gave
me 579. He was running 500 watts with a 4 element
beam.

With that I packed everything up. Now that February
is almost here, there should be more days in the 30s
and 40s with the sun getting higher and warmer.
With broad vistas, views of distance mountains and
plenty of south facing islands, Hermit Lake is a great
spot for winter radio. I'll be back before the ice melts.
Thanks to everyone for the great contacts!

73 Jim W1PID