Campfire QSOs at Profile Falls
February, 2012

Hanz, W1JSB and I headed to Bristol for an outing alongside the Pemigewasset River. A small but vigorous
campfire kept us warm while we worked Michigan, Greenland and Belize.

Hanz called me on 2 meters before lunch. He had the itch to get out and operate this afternoon. So we headed
north to Profile Falls and hiked up a snowy dirt road in the Corps of Engineers flood control area. Before
long we came to a little recreation area complete with picnic tables and barbeque grills.

I heaved a 33 foot wire over the branch of a towering pine tree just up from the shore. The water bottle
landed perfectly, and I eased it down directly over the picnic table. I had brought the HB-1B, and as soon
as I plugged in the key and a small speaker, I heard KG8YT give his call a couple of times. I didn't hear
any other station, so I sent my call. Bruce in Michigan came right back to me. I was laughing because the
whole thing happened within 2 seconds of turning the radio on. I didn't even change frequency. What a hoot...
just turn the radio on and start a QSO... who could ask for more?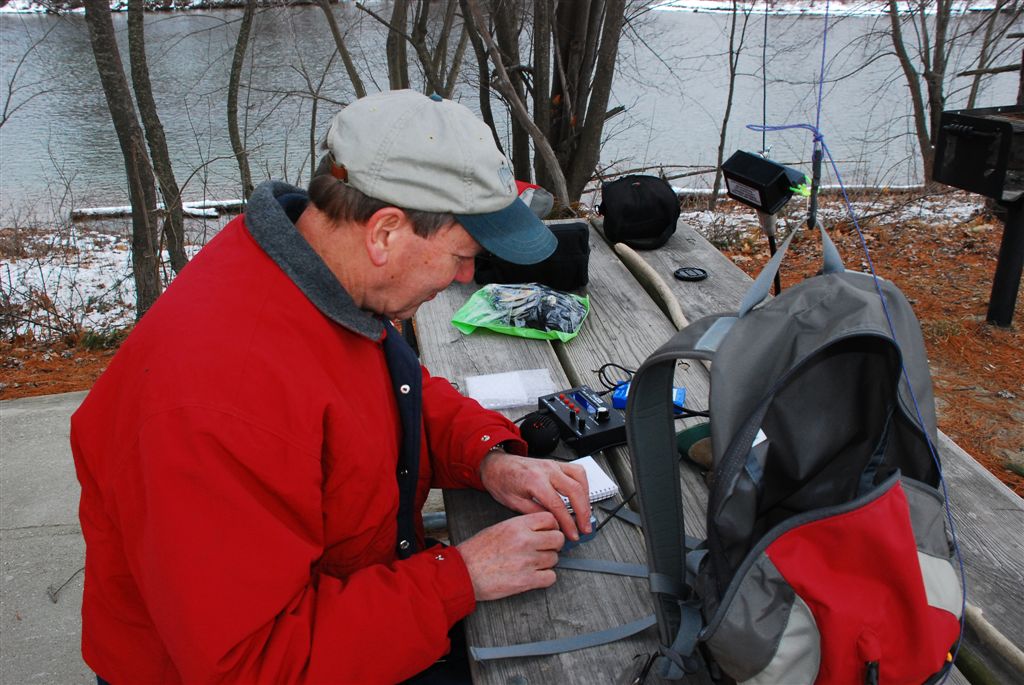 I couldn't stop grinning during the QSO with Bruce KG8YT

I was operating on 20 meters at about 4 watts using the Par matchbox to tune the half wave wire.
You can see the Par tuner connected to the top of the backpack. Bruce was running a K3 at 5 watts.
He was a nice 579 and gave me a 569. We have worked each other QRP-to-QRP several times before,
and we enjoyed the chat for at least five minutes. When my hands started feeling the cold, we signed.

"Hey... why don't we start a fire?" suggested Hanz. Fire? Sure... I've got some matches in my pack. (Gotta
be prepared!) So we gathered some kindling, some pine cones and dry grass. A little bit of paper from the log,
and we had a toasty campfire! "Hanz," I said. "If we can't work some DX with the CW signals, I bet we can get
them with smoke signals."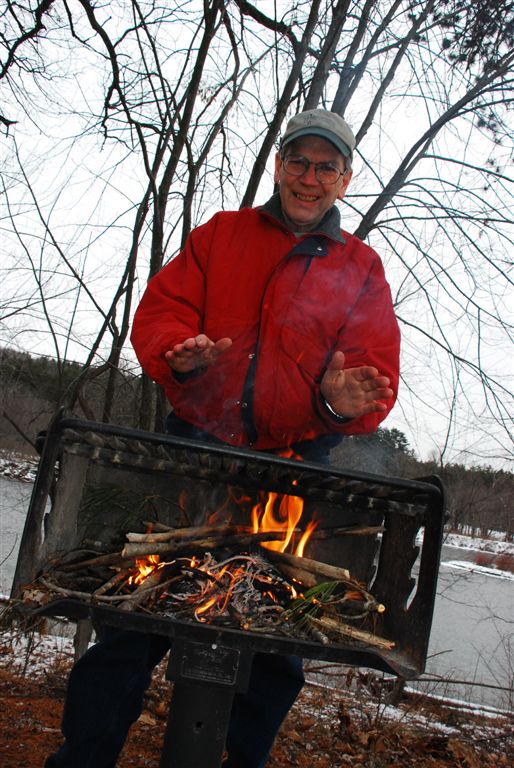 But we DID work some DX! After warming my hands, I headed back to the radio. In
the middle of the band I heard a faint CQ with auroral flutter. Too weak to hear
me I thought, but I sent my call anyway. XP2I in Greenland answered me after
a second call and we completed an exchange. Fantastic... no need for smoke
signals. A bit later I answered another CQ from V31YK in Belize (near Guatelmala).
We exchanged quick 599s, and I headed back to the fire. Hanz and I changed places.
He put the antenna on his 20 meter Small Wonders Lab rig complete with LCD frequency
readout, touch keyer, built-in battery and speaker.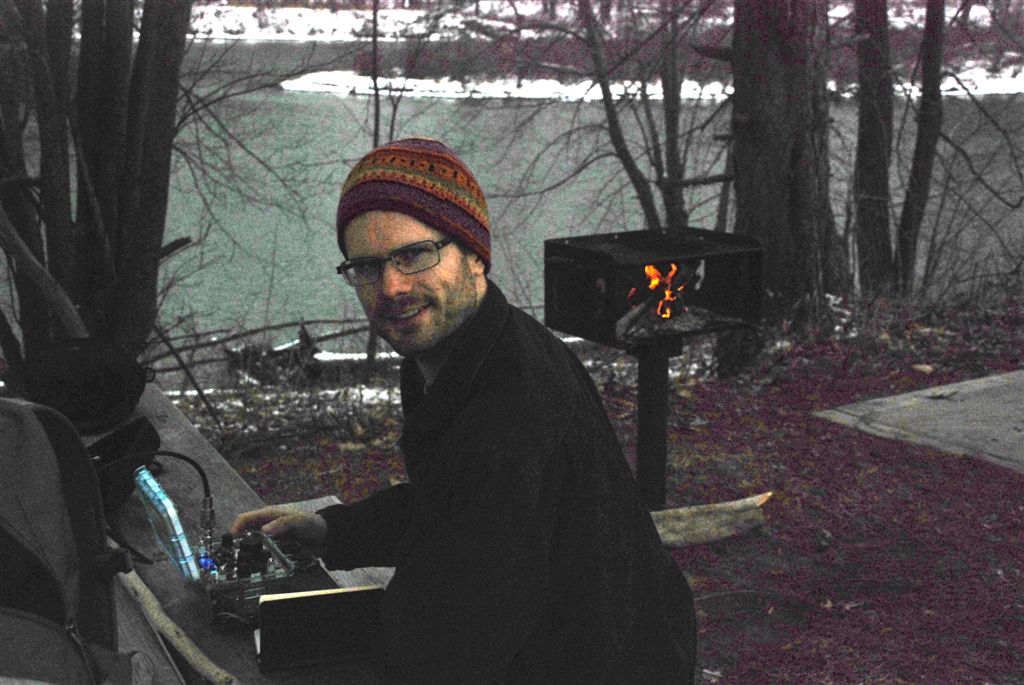 Hanz listened on 14.060 while Bruce KG8YT signed with a station in 4-land.
Bruce came right back to Hanz after a short pause and the two of them had a
Q5 QSO for the next five minutes.

With that we warmed our hands for one last time, threw some snow on the hot coals
and packed our gear for the walk back. Next time we'll bring some marshmallows!