Fall Hike to Profile Brook
October 2013

Hanz, W1JSB and I hiked near Profile Falls in Bristol today. We worked
Germany, Canary Islands, the Netherlands, Ontario and North Carolina.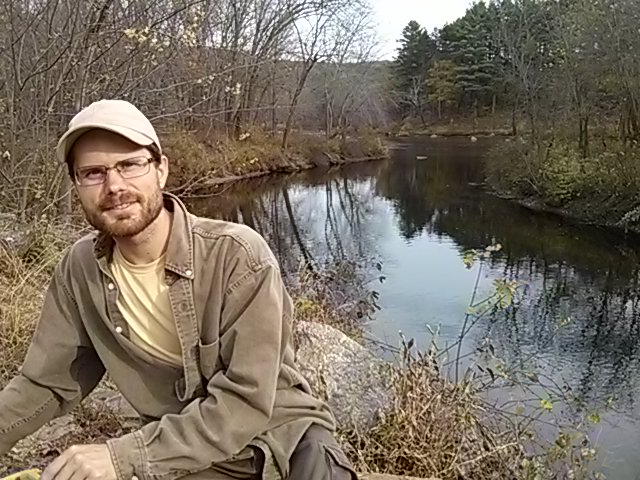 Hanz sets up his rig on the bridge abutment

We set up our gear on the old rail right of way on the edge of Profile Brook. The rails
are gone and the bridge is unused, but the stone abutment remains. It's a pretty spot.
We operated here in the early spring. (You can see an account of our March outing
here.)

I heaved a line into a tall maple tree near the old bridge site. We pulled up a 33 foot
wire and I connected a 9:1 unun and started operating the KX3 on 15 meters. The
Worked All Germany contest was in full swing, so we worked quite a few German
stations. Here's my log:

19 Oct-13 1900 21.008 CK3AT CW 599 599 Ontario
19 Oct-13 1901 21.009 DK9OY CW 599 599 Germany
19 Oct-13 1903 21.016 DL0LK CW 599 599 Germany
19 Oct-13 1920 21.020 DK0SU CW 599 599 Germany
19 Oct-13 1924 18.085 KS4S CW 599 599 NC
19 Oct-13 1928 18.092 EA8BBJ CW 559 599 Canary Isl

After operating on 15 meters for a while, Hanz took over. He operated his souped up
20 meter SWL rig in the yellow Pelican box. He worked several Germans.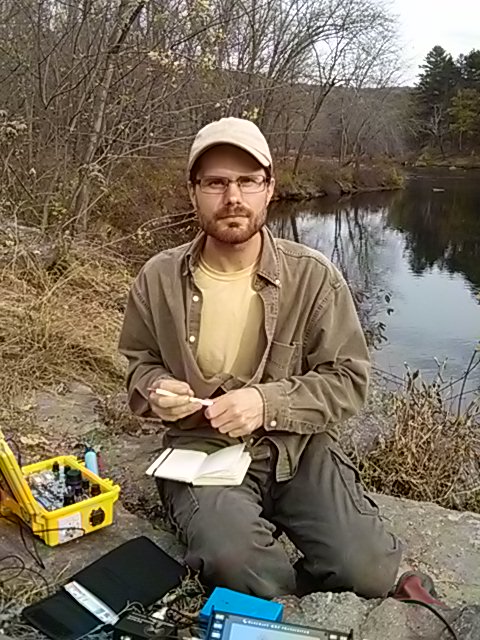 Hanz operating the Worked All Germany contest

After a while we switched to 17 meters with my KX3. Hanz worked KS4S
in North Carolina and PA3DZM in the Netherlands, and I worked EA8BBJ
in the Canary Islands.

The afternoon sky had clouded over and most of the leaves were off the trees.
But the air still had a rich fragrance of fall and the lingering warmth of
Indian summer. We hadn't operated together for nearly a month, and it was
great to get out with our QRP gear again.